Welcome to - Winnipeg Digital Repeater Group - VE4WDR

D-Star, "Digital Smart Technologies for Amateur Radio" is the JARL standard for Digital Voice and Digital Data on VHF/UHF/Above.

The Winnipeg Digital Repeater Group Inc. was founded August 2, 2011, and is dedicated to providing Amateur Radio Operators access to the new world of D-Star technology. D-Star repeater VE4WDR went "On The Air" October 22, 2011, and is located high above Winnipeg with a great "Bird's Eye" view of the city.

With a D-Star capable radio you can enjoy "Crystal Clear" communications with local Hams or with Hams around the world through the D-Star Gateway. Or through the computer using a USB "DV Dongle" which provides you access to the D-Star Gateway when in an area without D-Star coverage.

View the System Status & Stations "Last Heard" on VE4WDR - Click Here

Joining our group July 29, 2015, the Digital Data Project is a Winnipeg-wide wireless network using Wi-Fi devices tuned to operate at frequencies that have been allocated by Industry Canada for amateur radio use (mainly 2.3Ghz and 5.9Ghz). This network will be used for RF experimentation, radio training, and backup high-speed emergency communications as needed by Amateur Radio Emergency Services (ARES) and their served agencies during a time of disaster or emergency.

After a successful fund-raising drive in 2019 the Winnipeg Digital Repeater Group purchased a Hytera RD-982 DMR repeater and VE4DMR went on the air providing another digital mode in Winnipeg.

The Winnipeg Digital Repeater Group Inc expanded the DMR system and after a successful fundraiser installed a DMR repeater, VE4DMS, in Selkirk, Manitoba, in July of 2021.

We installed a DMR repeater, VE4DMP, in Portage Pa Prairie in October 2021 went on the air in late October 2021 thanks to the generous donations and hard work that made this happen. We are now fund raising for this project.

Should you wish to further support the DMR Project with a donation your contribution would be appreciated.

For more information on the DMR System - Click Here



D-Star and DMR in Winnipeg !!

The Winnipeg Digital Repeater Group conducted a membership drive and all members, new and those who have renewed their memberships, had their name added to a draw for two (2) prizes.

The draw was held on-line via Zoom on January 29, 2022.

VE4CCR, Chance, won the First Prize !!
-First Prize is an Anytone 878 UV Plus, Bluetooth Dual Band DMR portable radio.

VA4AFK, Derek, won Second Prize !!
-Second Prize is a free 1-year membership donated by the WDRG

Membership is $25.00 for RAC members and $35.00 for Non-RAC members

To join or renew your WDRG Membership, or make a donation - Click Here

A special thanks to LES.NET (1996) INC. for providing the amateur radio community with AMPRNet BGP routing and fiber-microwave connectivity.
VE4WDR- Winnipeg's D-Star & DMR Gateway To The World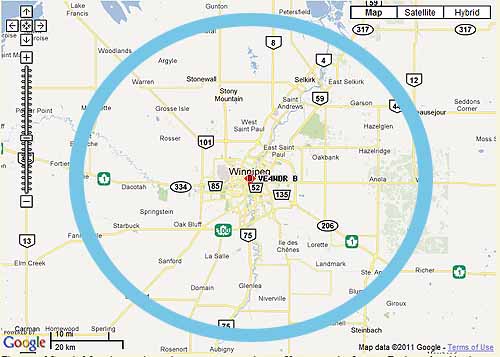 Coverage Area based on reports
from users using the Icom 92AD with an external antenna