Welcome to - Winnipeg Digital Repeater Group - VE4WDR

D-Star, "Digital Smart Technologies for Amateur Radio" is the JARL standard for Digital Voice and Digital Data on VHF/UHF/Above.

The Winnipeg Digital Repeater Group Inc. was founded August 2, 2011, and is dedicated to providing Amateur Radio Operators access to the new world of D-Star technology. D-Star repeater VE4WDR went "On The Air" October 22, 2011, and is located high above Winnipeg with a great "Bird's Eye" view of the city.
With a D-Star capable radio you can enjoy "Crystal Clear" communications with local Hams or with Hams around the world through the D-Star Gateway. Or through the computer using a USB "DV Dongle" which provides you access to the D-Star Gateway when in an area without D-Star coverage.

View the System Status & Stations "Last Heard" on VE4WDR - Click Here
Real Time view of Winnipeg's skyline from the HSMM Project ! Click on image for larger view -
Need to Join/Renew your membership for 2015-16??
You can do so by PayPal - Click Here
VE4WDR- Winnipeg's D-Star Gateway To The World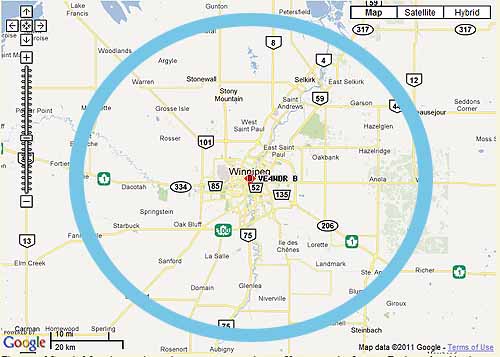 Coverage Area based on reports
from users using the Icom 92AD with an external antenna